Afternight - *PVE* - MaturePlayers - CustomBuildings - KeepYourBaseUponMapReset - *GBL*
Server address and port: 24.14.159.48:26900
----------------------------------------------------------------------------------------------
Unique Properties of this server
Everyone joining the server gets 'The Hammer of Thor' in their beltpack.
Over 1000 custom buildings.
Challenging zombies are turned up above recommended settings.
Home teleportation system.
zGate teleportation implemented.
Older players - no drama.
Active Admins.
Go to Welcome Center by typing /afternight in chat for safety and free items.
Contests and challenges of Admin created Labyrinth or catacombs with Admin quality prizes.
Geocaching challenges
Cash prizes!!!! >-not
Automatic forcefields around bases keeps grievers out.
Player killers get auto-jailed and reviewed for global ban list
Option for players to use automatic repairs on bases.(bbb commands)
Online interactive map (below) shows all explored areas in real time along with Other Players, Zombies, Care Packages & Animals.
Internal economy earning zCoins to purchase "un-buildable" in the /Store.
Zeds run from 10:00PM - 2:00AM.
Players get to save their bases and move them to the new map.
Our FACEBOOK group: https://www.facebook.com/groups/783080705143899/
Server Commands: https://afternight.envul.com/commands/
Server Rules: https://www.facebook.com/groups/783080705143899/permalink/934809173304384/
Live (Right now) Interactive Map Of Server Is Below
Login here for your free account to acquire more features: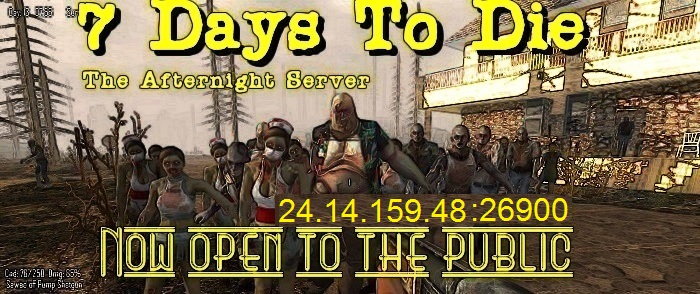 ---
Here are some recorded videos of a few of us playing on our server.













Active picture archive HERE

---
This Site is maintained by Dino since 1995
Here is a Wayback Machine link from 1995: https://web.archive.org/web/19961024000829/http://www.afternight.com/